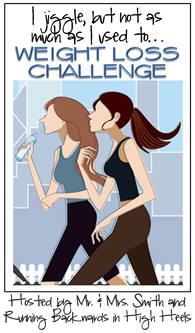 Well I am proud to say that this has been a great week!! I have been on my meal plan from my nutritionist for 1 week. My meal plan consist of eating 6 times a day, 3 meals and 3 snacks. I feel great and have plenty of energy. It is definitely a new way of eating for life! I weighed in yesterday at the gym before my workout and this is what the scale read...
Yes that says 168.0!!!! I am in the 160's!!!! I can't describe how excited and proud I am. Being 6'2 I don't think I have ever weighed in the 160's, not even when I was a college athlete. The best part is that I'm gaining muscle as well. My arms, back, legs, and butt, have never been this muscular, and I have to give all the credit to
Crossfit
.
When I started the jiggle challenge I weighed in at 175 and now I'm down to 168, I have lost a total of 7 pounds.
Here is my workout for the week
Friday
WOD
Deadlifts 3-3-3
Shoulder Press 3-3-3
3R4T
300 M Row
50 double unders
Saturday
21 Burpees
7 KTE
13 hand clean
As many rounds for 20 minutes
Monday
"Cindy"
AMRAP in 20 minutes
5 pull ups
10 push ups
15 squats
Tuesday
Elipicle glider for 30 minutes
Wednesday
"Mason"
25,20,15,10,5 reps of
KBS (50/35)
MB cleans (20/14)
Push ups
Burpees
Now here is my challenge, I am leaving today to San Antonio for a coaches convention. My goal is to stick to my meal plan as close as possible while going out to eat for pretty much every meal. I am going to pack all my snacks and choose healthy when eating out.
I will report how that goes next week!