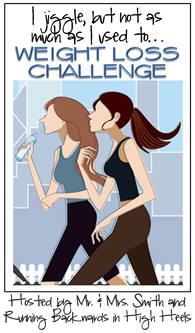 Ok well last week I had a 2 pound gain thanks to my indulgence on Easter weekend. This week I lost 1 of those pounds. I wish it was more but its just one tiny winy pound. I need to start taking measurements because my clothes are fitting looser but not much weight is coming off. So I'm hoping that I'm gaining muscle which weighs more than fat. I am lifting heavier weight in my crossfit workouts so I know I'm getting stronger.
I'm going to start seeing a nutritionist (one of our trainers at crossfit is a nutritionist), and I'm really excited about this!! The reason I decided to see a nutritionist is because I'm getting bored with what I'm eating. Lets face it, its hard for someone to eat salads everyday. I'll keep yall updated on this when I find out more info, I just talked to Lance (nutritionist) yesterday to get the basic info about getting started.
For my weeks workout
Saturday
5k race 31:08 time
Sunday
Off
Monday
"Teighlor"
AMRAP in 15 minutes:
10 Ring Dips
10 Pistols (5 each)
10 DB Shoulder Press (25/50)
5 HSPU
Tuesday
"Sectionals 2-1″
AMRAP in 10 minutes :
30 DU
15 power snatch (75/55)
ground to overhead
Wednesday
OHS 5-5-5
3R4T:
row 500m
run 400m
Thursday
WOD
6R4T:
10 deadlifts (225/155)
10 Burpees
Ok enough about the jiggle challenge, Today is May 5!! Happy Cinco de Mayo!!!!!
My husband and I had our first date on Cinco de Mayo. We went to on the border and had margaritas and chips & salsa, and the rest was history!!