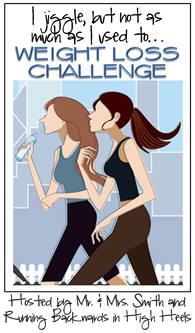 This is the last week of the jiggle challenge, and all I can say is that I'm so glad I participated. I joined the jiggle challenge to be accountable for my weekends, because I would do great on weekdays and splurge on the weekends. The second reason is go get out of my 175 rut. I have been 175 for several months and wanted motivation to workout harder and eat better.
I started the challenge in the second week with a weight of 175 and I am proud to say that this is my weigh in for the last week...
I lost a total of 7.6 pounds!! I did this by doing Crossfit and eating 6 times a day. I had a couple of cheat days but I made sure to workout harder the next day.
Here is my percentage of weight lost throughout the challenge
Week 2 was my start weight 175 height 6'2
Week 3 0.91% loss
Week 4 1.15% gain
Week 5 0.57% loss
Week 6 1.72% loss
Week 7 1.81% loss
Week 8 0.36% loss
and that brings a total of 4.34% total loss!!
All I can say is that this weight loss took hard work. There is no easy or quick fix for weight loss. There is no magic pill out that can make you lose weight, the secret is eating right and working out. Calories in Calories out!!! Good luck to all that participated in the jiggle challenge I'm kinda sad that this is my last post about it, Good bye and Good luck! Hard Work Pays Off!!!!