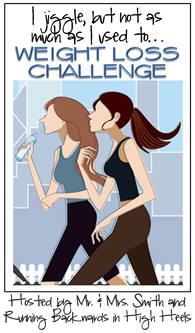 Well I wish I had a weight loss to post this week, but I don't. I actually gained 2 pounds. My clothes fit the same and I feel and look the same from last Thursday, I'm just 2 pounds up. I knew this would be a tough week because of the Easter weekand and I pretty much ate like it was my last supper. Friday I went to a crawfish boil and I'm sure I ate around 3 pounds of crawfish. Saturday my family bar-b-qued and I didn't hold back. Sunday I had leftovers and I just didn't eat too healthy. It was a special occasion I don't regret the weekend, I just can't have too many weekends like that.
My week workout with Crossfit
Friday
"Meatball"
7R4T: (7 rounds for time)
10 MB Cleans
10 Burpees
Farmers carry lap (outside) before and after 7 rounds
Saturday
I am so proud of myself for finishing this workout my time was 56:46!!! And even tho I probably burned about 800 calories in this workout I probably ate 2000 of it in bbq..lol
"Murph"
1 mile run
100 pull ups
200 push ups
300 squats
1 mile run
Monday
"engine 4″
4R4T of
10 OHS
30 burpees
F.C. wheel barrels (this exercise ain't no joke I'm still hurting from it)
Tuesday
2.2 mile run
Wednesday
off
Thursday's workout is this afternoon
Hang Power Cleans 5-3-1
mini wod:
4R4T:
5 shoot throughs
3 laps (200m+)run
10 Power Snatch (75/55)
Well I hope yall had a better week of weight loss than I did!!! This coming up weekend I need to crack the whip and eat healthy.