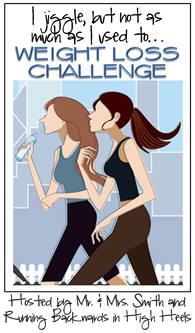 A week ago I weighed 175 and here is a picture of what I weigh now!! Sorry about the side pic.
I weigh 173.4 so I lost a total of 1.6 pounds!!! I'm so excited because I've never been below 175 so this is a big achievement for me. Remember I'm 6'2 so getting down to 173.6 is like winning the lottery...lol not really but you know what I mean.
For exercise I did crossfit and jogging
Friday - I took off
Saturday - "FN Tabata"
burpees broad jump
crab walk
speed walk
sprints
8 cycles each 1 minute rest between
Sunday - 3.11 miles jogging time of 31.36 minutes
Monday-Hang Power Cleans 3-3-3
Deadlifts 5-5-5
mini wod:
4R4T:
3 man makers
10 box jumps
Tuesday -"Holy Crap"
full court lunge, run back,
21-18-15-12-9-6- reps of Pullups and Situps
lunge and run between sets.
for time…
Wednesday -
Shoulder Press 5-5-5
Squat Cleans 5-5-5
mini wod:
4R4T:
Row relay. 200 meter row each, other holds plank.
For food
For Breakfast - I ate oatmeal or an egg sandwich with Ezekiel bread
Snack - apple
Lunch - Ham sandwich, orange, and banana
Dinner - Fish and veggies, turkey burger, or chicken and veggies
This past weekend I ate healthier than I usually do which helped with my weight loss. I did eat a Big Hunk candy bar (which is low fat for candy bars) when I got a sweet tooth and I ate Marble Slab non fat frozen yogurt vanilla and raspberries and non fat dark chocolate. These sweet snacks help out so much because I feel like I'm not depriving myself of something sweet yet they are either low fat or non fat.